For those of you who haven't been paying attention (and tsk for that), this year saw the Writers and Illustrators of the Future Gala return to its familiar time in April of 2022. This year also saw my dragons taking to the road to see the event in person again. They might have been a tad excited, but don't worry I wrangled them out of the driver's seat. Thus, dragons corralled we headed off to California to see everything old and new.
In some ways they event carried familiarity to those I've witnessed before: California, Author Services, judges, and the Taglyan Complex (which was as fabulous as it had been in 2019). The excitement as the winners came to the stage and accepted their awards. The time spent reconnecting with old friends and meeting new in the lobby and in the cool gardens outside. The winners were present, splendidly decked out in sharp tuxes and elegant gowns.
That is where the differences began.
The winners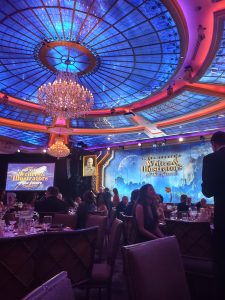 This was the first time the Gala Awards were held in April since 2019. In 2020 the awards were postponed and in 2021 a combined ceremony was held in the fall (a ceremony I couldn't attend but enjoyed watching the live stream of with friends). Because of this, 2022 saw winners not only from this year but those who could not travel before. They were excited to be there and engaged. Not only with the judges, experts, and staff there to help them work toward the next step on their journey, but with each other as well.
They talked. They socialized. They learned.
They demonstrated the best qualities of people who love science fiction and fantasy. A keen curiosity for the unknown, balanced with tolerance for differing points of view. Their genuineness carries into their stories. If you haven't already, grab your copy of Writers of the Future volume 38 and see for yourself. It launches tomorrow.
Also, each winner showed that in the face of challenges (because who hasn't had challenges lately). Imagination and inspiration can flow. They didn't let challenges stop them and continued working and creating.
The Location
Yes, the Taglyan Complex opened its doors for the ceremony again, but Author Services works hard to ensure even familiar places always hold a spark of magic. This year, they decked out both inside and out with mammoths matching Bob Eggleton's cover art. There was a giant mammoth out front that you could have your picture taken with. There were Mammoths in the presentation. There were even tiny cut out mammoths located on the table. These details create an experience that draws those who attend into the volume in person.
Beyond the Taglyan Complex, the workshop was held for the second time at the Roosevelt Hotel in downtown Hollywood instead of the Author Services building. The second time for author services the first time for me. The place was a maze with brilliant lights, hidden details, an occasional fountain or two, and more twisting and turns then I began to untangle in my day there.
And magical.
With their tightened protocols to keep everyone healthy, they couldn't have chosen a better location. While I missed the exquisite woodwork of author services, the interior of the Roosevelt reminded me of a castle. What better place for the writers to learn that ensconced within their fortress. Or, when the work was done enjoying a California courtyard by the pool.
The People
Okay, this one is mixed. There were the people I've known for years. John and Emily Goodwin. Joni Labaqui. Martin Shoemaker. Nina Kiriki Hoffman. Echo Chernik. And so many more.
But there were changes as well.
There were familiar faces there stepping into new roles. Jody Lynn Nye lead the workshop and has taken over as coordinating judge. A role she's embrace with great energy and enthusiasm. I cannot wait to see where the contest takes her.
And absences
Perhaps part of why this year's post as been so hard to write was the glaring absence I knew would be there but was still struck by. This is the first Writers of the Future event I have attended where David Farland was present. Physically. In word and spirit, he was very much there.
I still don't have the words which seem adequate enough to encompass everything he was as a writer, a mentor, and a person. My thoughts still spin this way and that trying to understand the void he's left. But he will be missed.
In part because this isn't the end.
The Writers and Illustrators of the Future contests look forward to finding the next author whose stories will blaze in the hearts and minds of readers. The dragons, creatures busy spinning out their wisdom to any who will listen, may have been shaking up, but they still stand strong. Here is to all the winners and everyone behind Volume 38, and to all those unknowns still waiting for their turn to shine.
If you're one of them, it's not too late to enter the current quarter. It closes on June 30th. Get your stories and illustrations in now.
Mine is in.
So until the next time the dragons take to the road. Keep writing. Keep drawing. Keep creating. There's too much behind and ahead to stop.
P.S. For any interested parties, I'm still working on my mammoth's name, but for now he is content with Woolly.