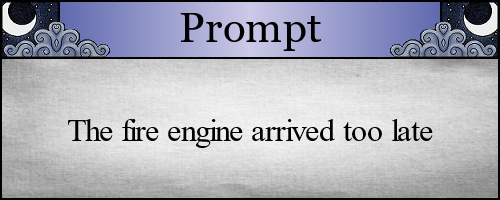 Welcome to Wednesday's flash fiction wherein I write as part of a group based on the same short prompt and post them. Here's my contribution.
Horses' hooves striking cobbles broke through my haze. I turned searching for the source. They were here; the fire engine arrived too late.
"Lady," the captain said scrambling down. His eyes moving past me to the building collapsing behind me.
I couldn't turn, couldn't look. I'd spent the last half hour doing nothing but staring as the place was destroyed.
"The Areushi," another man said scrambling down from the wagon.
Holding up my hand I forestalled his scramble toward the building, my lost home. My other hand clasped tightly the item behind my back, its edges digging into my palm.
Don't forget to read the other's takes on the prompt. More stories go up throughout the day. Be sure to check our page on Facebook for updates as everything becomes available: WonHundred Words.